4thSpecial Edition of English Article on Chinese Metaphysic
Exclusively brought to you by Kerby Kuek
The Essence Jing Fang Universal Round Diagram 《京房宇宙圓圖釋義》
Bagua application, Yaos, combine-10 theory (or married couple magic numbers), Yin sets and Yang rises, later years Bagua direction, four main directions and corners, twelve news Guas, natural Gua arrangement and the universal round table is co-related, without depth and breath in understanding the rational, one cannot execute the application to our advantage.
Tian Yuan De Fang (Heaven is Round and Earth is Square) 天圓地方
'Huai Nan Sze says "The cosmic path is round, the earth path is square', round is associated with quiet or invisible while square is visible and dynamic', in the West Han era, there was a famous mathematic book of "Zhou Pi Suan Ching' mentions that 'square numbers are from round, round numbers are from square as well, square numbers derived from a pattern, such pattern is 9 by 9 of 81. Such numbers are round and square with round belongs to Heaven and square belongs to Earth. Later Han book by Lu Li Che "Round is in Yang form, is dynamic, while square carries Yin form and quiet in Jin Fang recognised that the universal and matters can be explained in round or square manner; this is the breakthrough statement in those days,
Application體用
Lok Shu magic square with 9 on top and 1 at rear, left side with number 3 and right 7, 2 and 4 both are shoulders and 6 and 8 set as foot. The early days Bagua set as the form while the numbers are the application. Jin Shi mentioned 'Kin, Tui, Lei Chan, Shun, Ham, Kan, Kwan, mutually colliding each other, while Yin and Yang energies igniting and causing changes to take place.' Also, it is mentioned that 'with such changes take place between 5-elements and Bagua, the energies have transformed into kind or unkind energies. The formation of Bagua with six Yaos, Heaven and Earth with Yin and Yang interaction will dictate your life path; the Kin and Kwan lead the backbone of Bagua where the existence of all matters and the universal originated. The Jin fang universal round table is utilizing and evolving the 'body' and 'application' concept. The round table gyrate with 7 and 9 numbers in the middle, or in simplicity the Lok Shu 49 metal and 16 water move clockwise on the left in 6 multiple, 27 fire, 38 wood move anticlockwise on the right. The Lok Shu magic numbers mutually colliding, exchanging, and crossing and as a result the formation of 8 Guas and 384 Yaos are derived. Kin and Kwan are set with South and North, Lei and Ham with East and West, while Chan, Shun, Tui and Kan as four corners.
<![if !vml]>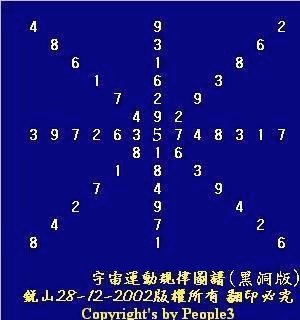 <![endif]>
Round Diagram Gua Yao 圓圖卦爻
Left side of the diagram from Yi 益Gua to Kin 乾Gua with total of 32 Guas, Yi益, Dun遯, Ye頤, Fu復, Wu Mong無妄, Xue隨, Shi Ke噬嗑, Chan震, Ji Ji既濟, Jia Ren家人, Meng Yi明夷, Pen賁, Ke革, Tong Ren同人,Feng豐, Lei離, Suen損, Lin臨, Chong Fu中孚, Jie節, Kui睽, Gui Mei歸妹, Li履, Dui兌, Tai泰, Da Chu大畜, Xu需, Xiao Chu小畜, Da Zhuang大壯, Da Yu大有, Jua夬, Kin乾 with total of 112 Yang Yaos, with 80 Yin Yaos and extra 32 Yang Yaos. Jin Fang mentioned that 'Yang from Rat while Yin from Horse, both diverging to left and right. Rat moves left while Horse moves right, as a result of such movements and changes, the kind and unkind energies are created.
Right side of the diagram from Hang恆Gua to Kwan Gua with total of 32 Gua, diagonally opposite with the left side of the table, Hang恆, Teng鼎, Da Guo大過, Kou姤, Sen升, Ku蠱, Jiang井, Shun巽, Wei Ji未濟, Jia解, Chon訟, Kun困, Meng蒙, She師, Huan渙, Xian咸, Tun屯, Xiao Gua小過, Lu旅, Jian蹇, Jian漸, Qian謙, Kan艮, Pei否, Shui萃, Chin晉, Yee豫, Koon觀, Pei比, Mok剝, Kwan坤, with 112 Yin Yaos, 80 Yang Yaos and extra 32 yin Yao. To sum up both sides we have sum up the total of Yaos. Chan Palace with24 Yin and 24 Yang Yaos, Lei Palace with 28 Yang and 20 Yin Yaos, Tui Palace with 28 Yang and 20 Yin Yaos, Kin palace with 36 Yang and 12 Yin Yaos. Left side with Kin commands the most Yang Yaos. Shun Palace with 28 Yang and 20 Yin Yaos. Ham Palace with 20 Yang and 28 Yin Yaos, Kan Palace with 20 Yang and 28 Yin Yaos, Kwan palace command the right side of the round table with the most Yin Yaos of 36 and only 12 yang Yaos.
<![if !vml]>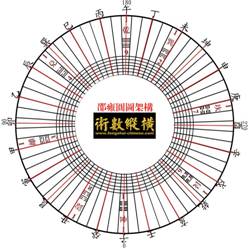 <![endif]>
The Combine-10 Theory相錯合十
Matters in the universal are made up of both Yin and Yang energies with diverting the Yin while embracing the Yang energies to achieve the harmonies state. Bagua interact diagonally and colliding with each other, If you observe carefully the Jin Fang round table, the first Gua on left side of the round table is Yi Gua益卦, while the first Gua on the right table is Hang Gua, this is a pair of diagonal combine-10 effect.
Dun Gua屯卦is diagonal with Tang鼎, while Yi Gua頤卦 is diagonal with Da Gua, Fu Gua復卦 is diagonal with Kua姤卦, Wu Ming無妄 is diagonal with Sen., Shui隨is diagonal with Ku蠱, Ser Key噬嗑is diagonal with Jian Gua井卦, Chan 震 is diagonal with Shun巽, Jig 既濟 is diagonal with Wei Jig未濟, Jian Ran家人 is diagonal with Jian解, Ming Yi明夷is diagonal with Cohn訟, Key Gua革 is diagonal with Ming蒙, Tong Ran同人 is diagonal with Ser師, Feng Gua 豐is diagonal with Human渙, Lei Gua離錯is diagonal with Ham坎, Shin 損 is diagonal with Xuan咸,Lin臨 is diagonal with Dun屯, Ching Fu中孚 is diagonal with Xia Gua小過, Jive節 is diagonal with Lu旅, Kua睽 is diagonal with Jian蹇, Kua Me歸妹 is diagonal with Jian漸, Li履 is diagonal with Ian謙, Tui兌 is diagonal with Kan艮,Tai 泰is diagonal with Pie否, Da Chu大畜 is diagonal with Suit萃, Xuan需 is diagonal with Chin晉, Xia Chu小畜is diagonal with Ye豫, Da Change大壯 is diagonal with Kong觀, Da Yu大有is diagonal with Mock剝, Kin 乾 is diagonal with Kwan坤, exactly 32 diagonally opposing each other to become the 64 Guas, This is the combine-10 theory that include both Yin and Yang theories and mutually create each other.
Yin Subsides while Yang Dictates陰消陽長
Che Xia Fu says "Thunder is dynamic while wind disperse, all matters begin with Yi益", there is a saying that Meng Xi has the same feeling on this issue. Jing Shi mentioned: The Yang begins from Rat, in the middle of Yi Gua益卦, Horse is in the middle Hang Gua恆卦" The round diagram started from the middle from Feng Rui Yi Gua as Rat with Yang energy emerges while the Horse begins in the Rui Feng Han as Yin energy that subside. Virtue begins at the east and east is the Thunder Gua that will serve to ignite or alert the world about what is happening around. Just last night Hong Kong experienced a thunderstorm and today the weather temperature has dropped approximately ten degrees and I am wondering will Northern part of China experience a snowstorm in coming winter? The day before a Chili morning Hong Kong will normally experience thunderstorm. A cool day represents Yin energy. Han Gua diagonal Gua is Yin Gua and indeed this is preciously the natural phenomenon on earth. Yi Book: Hard and soft mutually creates friction, Moon and Sun mutually orbiting, day and night" Universal created heaven and earth which resulted in rain, thunder, wind and etc. The airflow created turbulences that resulted thunderstorm and electric, such chemical reactions resulted in rain and so on. This serves as a platform for living beings. That is why Jing Shi is using Yi Gua as the Lead Gua. Yin and Yang keep exchanging until the state of equilibrium is reached. What ever goes up must come down and what ever hit the bottom will bounce back. Shun Gua is in the middle and Kin set as Hang Gua.
Jing Fang round diagram Lok Shu numbers is unique that diverge to two paths, the one with clockwise four spots and the second anticlockwise four spots. That spiral would end up with 64 Guas. Jing Shi says 'Kin and Kwan is the same period' The Lok Shu nine palaces begin to move from Rat's half Yin Gua clockwise to end up in Kwan Gua. This is representing the Yin and Yang energies mutually set and rise in a systematic manner. Both left and right sides contributing 32 Yaos respectively.
Later Day Direction後天方位
From the inner layer of round daigram of the Heaven Gua, Pei is nine, with the frame of though that the Early Bagua as body while the Later Days Bagua is the application in which the 9 is still Kin Gua. The diagonal effect telling is the while Pei is 9 the diagonal should be 1 with Tai, that's Kwan Gua. Let us examine another example the Gi Ji 7 is Ham the diagonal Wei Ji 3 is Lei, Shuan Gua is 6 as Kan Gua diagonal as 4 Xian Tui Gua. The diagonal effect of Kin/Kwan, Kan/Tui, Chan/Shun,Lei/Ham are all in Yin and Yang patterns. If you observe the inner layer of Kin Gua and flip over on the South, you can see the early days Bagua direction as Northwest.
Four Main and Four Corners四正四維
From observing the Jing Shi Round Table of Kin Gua, begin with Hen Gua(恆卦)move clockwise8 steps to Shun, with another 8 steps to Ham Gua, 8 more steps to Kan Gua , with 8 more steps to Kwan Gua, the right half of the round table with Four major Guas that govern 45 degrees. From Lei Gua to Tui Gua is 8 steps and 我們從京氏圓圖乾卦後一卦,即恆卦開始,順旋而數八卦到巽,再數八卦至坎卦,再順旋數至艮卦,為八卦,再由艮卦數至坤卦為八卦,右半圈四卦剛好在四十五度角上,那我們又從左半圈益卦,順旋數至震卦,為八卦.震卦順數數至離卦亦是八卦,再由離卦數至兌卦,剛好八卦,再由兌卦數回乾卦,剛好八卦,各八卦大家剛好在四十五度角上,各施其職,各所管轄,而它們八卦合共一圓周三百六十度,而我們從子位子位至卯位,再從卯位至午位,由午位至酉位,酉位又回至子位四正剛好是四方形.再看我們四維卦,又是一四方形.乾鑿度曰:"八卦之氣終,則四正四維之分明,生長收藏之道備,陰陽之體定,神明之德通,而萬物各以其類成矣".又曰:"四正四維皆合於十五,四正四維即八節風,即每節四十五度.
朱熹釋曰:"乾盡午中,坤盡子中,離盡卯中,坎盡酉中.陽生子中,極於午中,陰生午中,極於子中.其陽在南,其陰在北".
京氏宇宙圓圖排設是極具規律性,亦符合卦理自然之道,參同契曰"子南午北,謂紀綱,一九之數終而復始,龍西虎東見位卯酉"意思是說乾坤坎離為四正卦,.參同契曰"坎離左右之門,牝牡",自古以來,天根月窟,各家有各自爭論.而周易參同契認為天根在卯離,月窟在酉坎.
Four Main and Four Corners Guas四隅四正卦
Jing Shi Yi Chuan, Kin Gua located at Northwest pivotal point, the Yin and Yang diagonal point; Kwan Gua is pure Yin in nature located at the Southwest location, Shun at the Southeast, Kan Gua is located at the Northeast, Chan in the East, Tui is the West, Ham is North and Lei is the South. This is the exact locale of four main and four corners Guas.
Looking at the traditional Bagua, the Kin Gua leads three males Guas while the Kwan Gua leads three female Guas and this obviously neglected the existence of Four main and Four corners Guas. Current new Guas arrangement should be Kin Shun Kan Kwan Chan Tui Jam Lei. With start from Kin, follow by Shun through Kan and strive at Kwan, with Kin ended up with Lei. Kin Palace first move will lead to shun and become Tin Feng Guo Gua, it then move again to become Tin San Tun, then Tin De Pei and so on…the four corners Guas appear! Kin (Northwest), Shun (Southeast) Kan (Northeast) Kwan (Southwest). With the start from Kwan while Chan emerges, Tui through and Kin strives with Kwan ended up with Ham. Kwan palace first move to Chan become De Lui Fuk, second move become De Chak Lam, third move to De Tin Tai and so on. With the Kin as the ultimate beginning of universe while the Kwan is the end of the tier end with Ham Lei Chan Tui as four main directions.
12 News Guas 十二消息卦
The importance of the round table is expressing the message of Yin subsides and Yang on the rise, the 12 news Guas mimic the same message, we can see that the left half round table 6 Guas of Fu復, Lin臨, Tai泰, Da Chuang大壯, Kui夬, Kin乾, and the next 6 Guas on the right half round table are Kuo姤, Dun屯, Pei否, Koon觀, Mok剝, and Kwan坤 are combined as 12 is the essence of Jing Fang ideology to use the number 6 as core or base. The Jing Fang 6 Sons Guas energies are again using the number 6 as catalyst. Changes are the core message that one can find here. In the Chun Chiu era, Jing Fang also changed the 12 tones to 60 tones (musical temperament) using the gyrate theory. The Lok Shu numbers divided into two paths and gyrate six times to make up a total of 64 Guas. The two paths that mutually gyrate and result in with Kwan creates 6 Guas and Kin Gua creates 6 Guas as well that add up to become 12 Guas. And these 12 News Guas are the phenomena of Yin Subsides and Yang dictates and vice versa and the circle begins all over again. This is the Jing Fang round table imperative message. The 12 news Guas resulted from the Lok Shu numbers gyrating are the mainstream identical to human body 12 main bloodstreams. That will dictate the whole body's function. During the gyration period, Kin will not use Ham and Kwan will not Lei and that is in line with the natural course of Mother Nature.
Natural Arrangement of Gua 自然卦序
The accuracy of the sequential and arrangement of round table 64 Guas is symmetrical to human body whereby the 3 Yin and 3 Yang bloodstreams (blood pressure point according to Chinese medicine) that is why we cannot go wrong no this one. Horse spot is where the right Sun located, rat spot is where the right moon is located, Rabbit spot is where the left sun is located, and Rooster spot is where the right moon is located. For instant, if Lei Gua is at Tiger spot and not Rabbit spot, this defies the natural course and that ought to be human error, since that becomes a left Shao Yang (少陽). To site another example, if Ham Gua is not at Rooster Spot but at Monkey spot, that became left Shao Yin with substantial differences. In the 12 artilleries blood stream cycle round table, Rabbit spot is the leading Shao Yang San Jiao Ching (少陽三焦經), (Chinese medical term for body functional parts related to heart/lung/etc), Rooster is the spot of foot solar spleen circle (足太陽脾經) (term for foot arteries that effect our spleen), a margin error for such Guas should be minimal of insignificant but a deviation of a Gua is a catastrophe in diagnosing a sick patient. In Jing Fang round table Kin Gua moves 8 spots anticlockwise to Tui Gua, and from Tui spot we move 8 additional spots to Lei Gua, and again 8 more spots we arrived at the Chan Gua. Now let is begin again from Kin Gua and this time we move 8 spots clockwise and arrived at the Shun Gua, another 8 spots will be us to the Ham Gua, move clockwise again 8 spots is Kan Gua and last 8 will bring us to Kwan Gua. 8 Palaces and 8 Guas resulted in 64 Guas, with Kin Kwan, Ham, Lei as 4 main Guas on Rat Horse Rabbit Rooster spots while Chan, Shun, Tui, Kan are the 4 corners. This Chinese wisdom is inline with natural courses.
Chan Tong Qi參同契
Zhou-I Chan Tong Qi is the Taoist utmost respected scripture and treated as the bible of Tao, is the base for Taoist practitioners to learn and practise the knowledge of martial arts, to learn the art of longetivity and metaphysics that influence the world. The two famous backbones Thesis are the Lunar Stem Adoptions Theory and 12 Pi Guas. The third popular theory is Heaven ad Earth, Water and Fire 4 main Guas. The Stem adoption theory belongs to Jing Fang. According to Jing Fang: The division of Heaven and Earth with Kin and Kwan Guas that adopt Kap Yuet Yam Kwai, Chan adopts Kang and Shun adopts San, Ham adopts Mou and Lei adopts Kei, Kan adopts Peng and Tui adopts Ding. Chan Tong Qi scripture has managed to include two of Jing Fang Theories, beside the Stem Adoption Theory, Jin Fang's 22 news Guas also included into the scripture. Says Jing Fang, the changes in Six Yaos in 12 news Guas resulted in the multiple of 6 with Kin and Kwan as base for transition. The spirit of Jing Fang is none other than the number 6,just like the Lok Shu magic numbers that use 6 paths to derive the 64 Guas. Chan Tong Qi only preserves limited of Jing Fang knowledge, the other 8 big works of Jing Fang were lost in history, nevertheless the bit and pieces of the works can be traced or detected. Tang era of Wah San School Chen Xi Er has biggest influence on Song era metaphysic even until today. Nan Huai Jin acknowledged, " Chen Xi Er's knowledge is inherited from even before the Han era of Dan Dao School which also attributed from Chan Tong Qi. His descriptions of Lok Shu and Tao Chi Diagrams had passed to Shao Kang Ji, and Zou Dun Yi who later became legend. The author of Chan Tong Qi is Wei Pai Yang, is highly preached and the title of 'The real dragon man' was given to him and the famous Chen Xi Er also being recognised in this regards.
From historical perspective and analysis of many scholars, the book Chan Tong Qi plagiarised not only the Stem adoption Theory but the 12 News Guas as well of Jing Fang. No one mentioned Jing Fang findings in the Song era even during that time The Taoist had different schools or sects. This is unfair and unjust to Jing Fang.
The Structure and Arrangement of Round Table圓圖支點架構排列
The explanation by Shao Kang Ji of his round diagram: The Rat in Winter Solstice is with extreme Yin energies, while the Rabbit in the Spring Equinox is with extreme Yang energies. Horse in the summer solstice is with extreme Yang as well, while the extreme Yin also can be found on Autumn Equinox. The middle path of 360 is 180, such routes is divided equally. Quote "Ham and Lei with extreme Yang and Yin energies, in which Tiger is leading the Lei Gua and Monkey leading the Ham Gua, no matter how the extreme goes the middle path still remain the limit to avoid cross-over. Kin and Kwan on top and bottom, with Lei and Ham on left and right, that signifying the sky and earth and the sun and moon on the sides. Manipulating the four seasonal points of spring, summer autumn and winter to dictate the daylights duration. Let us examine his sequence of Pu Xi Bagua round table of Kin Tui Lei Chan Shun Ham Kan Kwan that did not match his statement that Tiger leads Lei, Monkey leads Ham, which is Kap leads Lei and Kang leads Ham!!
<![if !vml]>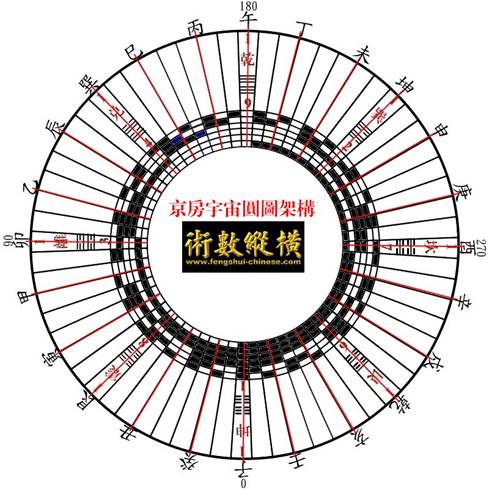 <![endif]>
京房宇宙圓圖伏羲八卦乾兌離震巽坎艮坤,卦定四正四維。
Jin Fang Universal round table Fuxi Bagua Kin Tui Lei Chan Shun Ham Kan Kwan to determine the four main and corner directions

<![if !vml]>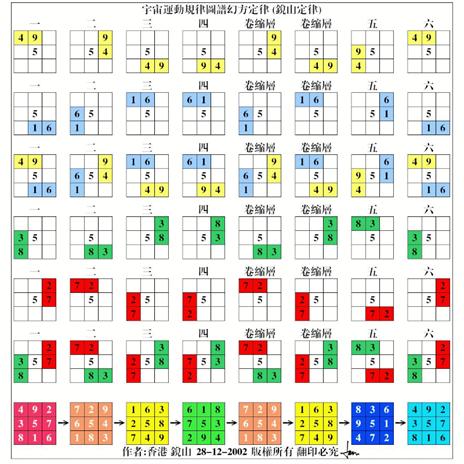 <![endif]>
By Grand Master Lau, Founder of Xuan Kong Zhang Pai
Translated by Kerby Kuek, Chief Disciple of Xuan Kong Zhang Pai
《京房宇宙圓圖釋義》
八卦的體用,卦爻,相錯合十,陰消陽長,後天方位,四正四維,四隅四正卦,十二消息卦,自然卦序等都與宇宙圓圖有密切關係,深入了解其筒中義理,才可運用自如.
天圓地方
准南子曰"天道曰圓,地道曰方,方者主幽,圓者主明",在西漢有一本著名數學書籍"周脾算經"曰"數之方,出於圓方,圓出於方,方出於矩,矩出於九九八十一,環矩以為圓,合矩以為方,方屬地,圓屬天,天圓地方,方數為典,以方出圓".後漢書律曆志說:"陽以圓為形,其性動,陰以方為節,其性靜".京房認為宇宙萬事萬物不離圓或方定律,這種概念是當時蓋天說的觀點,亦同時,天圓地方概念在整個西漢時代,充斥著每一學者.
體用
洛書數戴九履一,左三右七,二四為肩,六八為足,為用,先天八卦定位為體,京氏曰:"乾兌離震巽坎艮坤,八卦相盪,二氣陽入陰,陰入陽,二氣交換帶停,故曰生生之謂易".又曰:""生吉凶之義,始于五行.終于八卦,故曰"八卦成立,象在其中矣,六爻上下,天地陰陽,運轉有無之象,八卦之要,始于乾坤,通乎萬物".京房宇宙圓圖是以以上"體""用"概念演變而成,圓圖上中七九迴旋,換言之洛書四九金,一六水順時左旋六道,二七火,三八木向逆旋右旋.在從上而下各分兩路而行,而洛書數相錯相加相盪,構成了六十四卦三百八十四爻,圓圖在八卦來說,乾坤定上下子午之位,離坎定卯酉左右之門,震巽兌艮定四維之位.

<![if !vml]>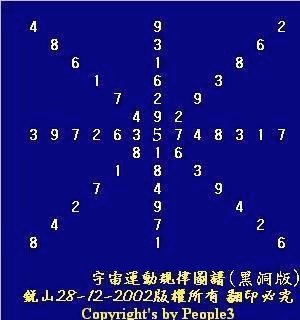 <![endif]>

圓圖卦爻
左半圈從益卦到乾卦,有三十二卦,益遯頤復無妄隨噬嗑震既濟家人明夷賁革同人豐離損臨中孚節睽歸妹履兌泰大畜需小畜大壯大有夬乾,陽爻共112,陰爻80,陽爻多於右半圈32爻,京氏曰"陽從子,陰從午,子午分行,子左行,午右行,左右吉凶,吉凶之道".右半圈從恆卦到坤卦共三十二卦,與左半圈剛相對,恆鼎大過姤升蠱井巽未濟解訟困蒙師渙咸屯小過旅蹇漸謙艮否萃晉豫觀比剝坤,陰爻共112,陽爻80,陰爻多出32爻,陽卦多陰,陰卦多陽,從圓圖每宮八卦相加,便一清二楚了!震宮合共四十八爻,陽爻二十,陰爻二十八.離宮合共四十八爻,陽爻二十八,陰爻二十.兌宮合共四十八爻,陽爻二十八,陰爻二十.乾宮合共四十八爻,陽爻三十六,陰爻十二.左為陽關鍵性是在于乾宮.巽宮合共四十八爻,陽爻二十八,陰爻二十.坎宮合共四十八爻,陽爻二十,陰爻二十八.艮宮合共四十八爻,陽爻二十,陰爻二十八爻.坤宮合共四十八爻,陰爻三十六,陽爻十二,亦是右半圈舉足輕重的宮位.(見京房宇宙圓圖)
<![if !vml]>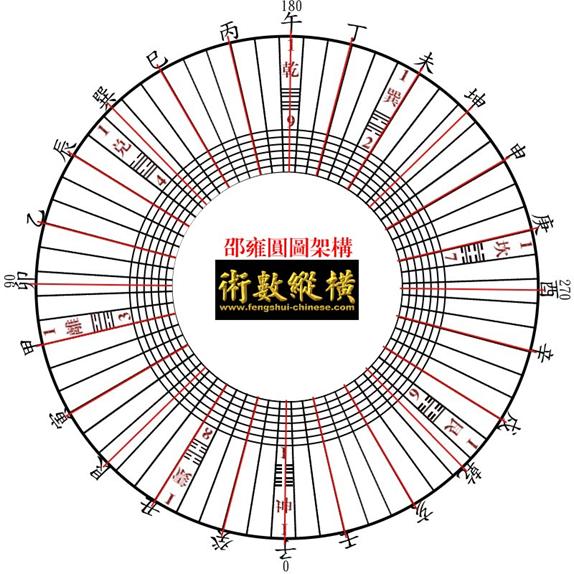 <![endif]>
相錯合十
天地萬物之間不外乎陰陽之道,所謂萬物負陰而抱陽,充氣以和.而八卦不外乎八卦相錯相盪,我們可以從京氏圓圖觀測從左半圈下面益卦,再看回右半圈上部第一卦,恆卦,剛好是一對錯卦,屯卦錯卦便是鼎,而頤卦錯卦便是大過,復卦錯卦姤卦,無妄錯卦升,隨錯卦蠱,噬嗑錯卦井卦,震錯卦巽,既濟錯卦未濟,家人錯卦解,明夷錯卦訟,賁錯卦賁,革錯卦蒙,同人錯卦師,豐錯卦渙,離錯卦坎,損錯卦咸,臨錯卦屯,中孚錯卦小過,節錯卦旅,睽錯卦蹇,歸妹錯卦漸,履錯卦謙,兌錯卦艮,泰錯卦否,大畜錯卦萃,需錯卦晉,小畜錯卦豫,大壯錯卦觀,大有錯卦剝,乾錯卦坤,剛好三十二卦對三十二卦錯卦,陰陽對待,絲毫不差.相錯道理便是合十,你們可以從數字上相加,全部都是合十及生成數.
陰消陽長
子夏傳曰:"雷以動之,風以散之,萬物皆益",孟喜亦有同感,有此說話.京氏曰"陽從子,子之半正當益卦,午之半正當恆卦".圓圖以風雷益子半位陽氣作為起始卦上升,從午半位陰氣雷風恆作下降.又曰"德取象為雷,出自東方,雷有聲,故曰雷,雷能警醒萬物,謂發生萬物之始",就昨天晚上,香港就來了一場雷雨,今天氣溫已下降了大概十度左右,不知我們中國北方在冬天來臨時候,是否又刮起一場風雪呢?而香港每當寒冷前一天,必會有一場雷雨,寒冷亦代表陰氣,恆卦的錯卦對宮為益卦,春雷大地.試問這不就是大地自然景象嗎?易曰:"剛柔相摩,八卦相盪,鼓以雷霆,潤以風雨,日月運行,一寒一暑".宇宙開天闢地,必風雷雨電交加,蓋宇宙生成必由氣流風帶起了雷電,電能,產生了混合化學作用,然後才有風雨,萬事萬物才能夠生存條件.焉而先有地,繼而草木才能從地上發起芽來,宇宙開辟為風雷交加,所以京氏以益卦作首".京氏易曰"陰陽代位,至極則反,與巽為中,退復于本"此乃陽極則生陰,故乾卦後立恆卦.
京房圓圖特色是洛書數中分兩路,一路順行四位,一路逆行四位但當完成構成六十四卦任務後,京氏曰:"乾坤二象,合一運",而其洛書大九宮數就從子之半益卦一路順行,直至回歸坤卦,此乃代表陰陽升降關係,極具規律性,從左半圈益卦到乾卦,陽爻逐漸上升,多出右半圈32陽爻,而右半圈恆卦到坤卦,陰卦規律性逐漸增長,是多出左半圈32陰爻.
後天方位
從圓圖內層天卦觀測,否卦為九,以先天為體,後天為用的概念,九乃乾.從否卦的錯卦泰卦為一,那便是坤卦.再看看既濟七為坎,對面錯卦未濟卦三為離,損卦為六為艮卦,對面錯卦咸卦為四為兌卦,我們便可以看到天地定位,山澤通氣,雷風相薄,水火不相射,無不是陰陽對待交錯.如果你從內層的乾卦,倒轉在南,又會顯示到先天方位,而從內層乾卦他剛好在後天八卦西北位.系辭曰:"乾舍於離,配日而居,坤舍於坎,配月而居,離與乾同位,巽與坤同位,震之離,亦離之震,同位東",此乃說明大家互相顛倒,互相同位之理.
四正四維
我們從京氏圓圖乾卦後一卦,即恆卦開始,順旋而數八卦到巽,再數八卦至坎卦,再順旋數至艮卦,為八卦,再由艮卦數至坤卦為八卦,右半圈四卦剛好在四十五度角上,那我們又從左半圈益卦,順旋數至震卦,為八卦.震卦順數數至離卦亦是八卦,再由離卦數至兌卦,剛好八卦,再由兌卦數回乾卦,剛好八卦,各八卦大家剛好在四十五度角上,各施其職,各所管轄,而它們八卦合共一圓周三百六十度,而我們從子位子位至卯位,再從卯位至午位,由午位至酉位,酉位又回至子位四正剛好是四方形.再看我們四維卦,又是一四方形.乾鑿度曰:"八卦之氣終,則四正四維之分明,生長收藏之道備,陰陽之體定,神明之德通,而萬物各以其類成矣".又曰:"四正四維皆合於十五,四正四維即八節風,即每節四十五度.
朱熹釋曰:"乾盡午中,坤盡子中,離盡卯中,坎盡酉中.陽生子中,極於午中,陰生午中,極於子中.其陽在南,其陰在北".
京氏宇宙圓圖排設是極具規律性,亦符合卦理自然之道,參同契曰"子南午北,謂紀綱,一九之數終而復始,龍西虎東見位卯酉"意思是說乾坤坎離為四正卦,.參同契曰"坎離左右之門,牝牡",自古以來,天根月窟,各家有各自爭論.而周易參同契認為天根在卯離,月窟在酉坎.
四隅四正卦
《京氏易傳》"乾卦居西北之分野,陰陽相對之地;坤卦純陰用事,西南方之卦;巽卦東南向朋,齊肅陰陽;艮卦本體屬陽,陽極則止,反生陰象,上艮下艮,意象土木分氣後,艮居東北方;震卦震分陰陽之用事,屬于木德,取象為雷,出自東方;兌卦稱陰為澤,純金用事,二陰合體,稱于西郊;坎卦稱陰以陽處中,北方之卦也;離卦本于純陽,陰氣貫中,禀于剛健,見乎文明,文明為南方".以上明顯說出後天八卦四隅四正卦.
我們看看傳統八宮卦便知道乾統三男,坤統三女地排列,明顯是忽略了四隅四正存在.現新的卦序應以乾巽艮坤震兌坎離八宮為首.乾起巽始艮經坤歷,乾終于離,乾宮經巽相疊為天風姤,相疊為天山遯,相疊為天地否...我們看看四隅卦出現了,乾 巽 艮 坤 ,乾西北,巽東南,艮東北,坤西南,四隅卦齊備.坤起震始兌經乾歷,坤終于坎,坤經震相疊為地雷復,相疊地澤臨,相疊地天泰...蓋乾知大始,坤作成物,乾以易知,坤以簡能.意思是乾為萬物之始,坤則作為萬物之終,乾坤易門也.故剩餘坎離震兌為四正.
十二消息卦
在圓圖裡最重要表達當然是陰消陽長道理,而十二消息卦亦蘊含在內,我們可以看到左半圈復臨泰大壯夬乾六卦,而右半圈姤屯否觀剝坤六卦,左右剛好六卦合十二卦,此等便是京氏易精髓,以"六"為中心.而京氏卦氣說無不與"六"有關,最著名便是六子卦氣說.京氏曰:"六位適變,八卦分焉,陰虛納於陽位,稱實,升降反覆,千變萬化,易者變也".而他又從呂氏春秋十二律改變為六十,以旋轉配之.
這洛書數分兩路旋轉六次,形成六十四卦,而兩路六在六次內,坤卦產生了六卦,乾卦產生六卦,合共十二卦,而這十二消息卦是以陰消陽長,陽長陰消,週而復始,流行不息,循環無端,盡在京氏圓圖.十二消息卦是在洛書數旋轉時,所生成主脈絡,就正如人體十二經絡一樣,控制全局.而在生成期間,乾是不用坎,坤也不用離,這是自然排設,在一特定方式排設下,自然會明白了!造成一個奇妙虛位,盡在不言中.
自然卦序
從素問陰陽離合論,有關經絡三陰三陽方位論述,若然以圓圖六十四卦對應身體各部份,那半卦也不能錯.午位右太陽,子位右太陰,卯位左太陽,酉位右太陰.舉例若然離卦在寅,而不是在卯,那便是人為了!便是左少陽,又舉例坎卦不在酉位,而在申位,就變成左少陰,那便相差十萬八千位了.在十二經氣注環周圓圖,卯位是首少陽三焦經,酉位是足太陽脾經,若然各自相差一卦,那便變了四指環.申位大趾環,所以在正式生卦時候,一卦都不能錯.從京氏圓圖上中乾卦向逆旋,數至第八卦,剛好是兌,由兌卦再數八位,剛好是離,由離卦數八位剛好震卦.我們又回到乾卦順旋,數至巽卦,剛好是八位,由巽卦再順旋數至坎卦,剛好八卦,由坎卦數至艮卦,又剛是八卦,由艮卦數至坤卦剛好是八卦,八宮八卦八八六十四卦完全是規律地排設生成,乾坤坎離剛好是在四正卦,子午卯酉之位,而震巽兌艮剛好在四維位上,絲毫不偏離位置.這才是不需要花任何智慧腦力,是天然地設地生成.
參同契
周易參同契為道教的重要思想基石,自古稱為"萬古丹經王",是丹經鼻祖,除了外丹及內丹外,它的學術精髓博大精深,甚至乎影響全世界文明,而兩大理論台柱,一為月相納甲法,二為十二辟卦,三是天地水火四正卦.納甲之法始于京房,京氏易曰:"分天地乾坤之象,益以甲乙壬癸震巽之象,配庚辛,坎離之象配戊己,艮兌之象配丙丁.周易參同契基本上取京房納甲說,此其一.此其二十二消息卦乃是京房所創,曰:"六爻反覆之稱",十二消息卦以六為一基本數,用乾坤兩卦來造,京氏易的靈魂,無不關乎"六",就正如洛書數旋轉六道來造成六十四卦,故周易參同契保留了京氏易影子,當然,從現今來看,京八易大部份已遺失,雖已無從追查,但從種種蛛絲馬跡也不能否定.
影響整個宋代的學術思潮及至今,乃唐末五代華山道士陳希夷,他的學術思想,南懷瑾前輩在中國道教發展史略稱:"陳希夷的學術是秉承秦漢以前的儒道本不分家的丹道學派,參同契是其中重要原素.他的易象"河圖洛書""太極圖"數傳到邵康節,周敦頤成為千古流芳.而周易參同契作者魏伯陽,後來被道教封為火龍真人,陳希夷亦位列仙班.
從歷史角度或眾多學者分析,參同契事實上是抄襲了京房仙師納甲納子說,至於十二消息卦亦如是,就算取其一學說,也有千古之功,雖然道教在宋以後有幾大流派,又為何未見提及京房仙師一言半字呢?此乃我們中國人所謂的過橋抽板嗎?
圓圖支點架構排列:
我們看看邵康節如何形容他的圓圖:"冬至之子中,陰之極;春分之卯中,陽之中。夏至之午中,陽之極;秋分之酉中,陰之中。凡三百六十,中分之則一百八十,此二至二分,相去之數。"又云:"坎離者,陰陽之限也,故離當寅,坎當申,而數常踰之者,陰陽之溢也,然用數不過乎中也"。"乾坤定上下之位,離坎列左右之門,天地之所闔闢,日月之所出入,是以春夏秋冬晦朔弦望晝夜長短行度盈縮莫不由乎此矣。"而我們又看看他的圓圖之伏羲先天八卦,乾兌離震巽坎艮坤排序,而他說離當寅,坎當申,排列後是離當甲,坎當庚才是

<![if !vml]>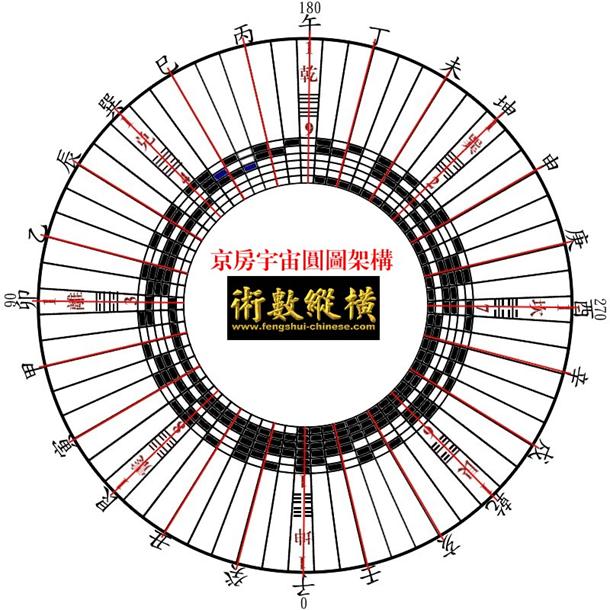 <![endif]>
京房宇宙圓圖伏羲八卦乾兌離震巽坎艮坤,卦定四正四維。

<![if !vml]>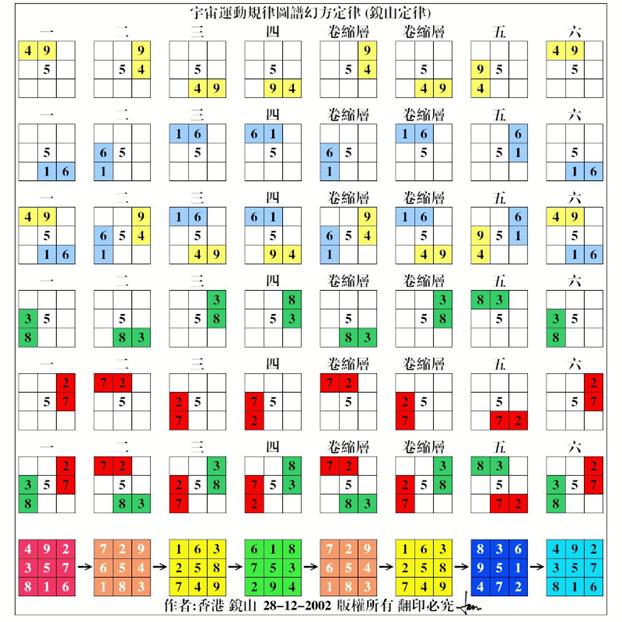 <![endif]>
邵子幻方圓圖
玄空掌派掌門人
kerbykuek@yahoo.com.hk